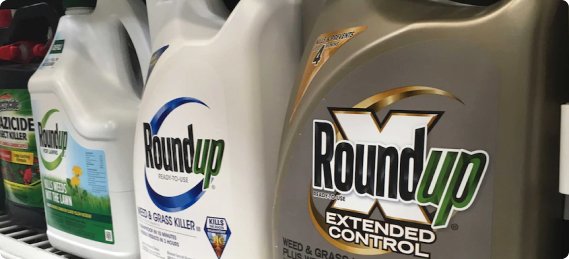 Roundup Lawsuit
Roundup and its key ingredient, glyphosate, have been linked to several types of cancer, including non-Hodgkin's lymphoma NHL), b-cell lymphoma and leukemia. As a result, thousands of people have filed lawsuits claiming the popular weed killer caused them to develop cancer.
Glyphosate, the weed-killing active ingredient in Roundup, stands at the center of these lawsuits. Court proceedings in some of the earliest Roundup trials revealed close interactions between Monsanto–the manufacturer of Roundup–and the Environmental Protection Agency (EPA).
These interactions have cast doubt on the EPA's glyphosate rulings. Internal Monsanto documents also demonstrate repeated attempts, some successful, to manipulate published scientific studies and media reports in favor of glyphosate safety.
Keep reading to learn the facts about Monsanto, Roundup, glyphosate, non-Hodgkin's lymphoma, and how they figure in thousands of lawsuits.
Roundup Weed Killer Lawsuits
In 1970, agricultural giant Monsanto developed glyphosate as a potent herbicide. Monsanto marketed the chemical as Roundup Weed Killer. By 2007, it had become the most used herbicide in the United States. An estimated 1.4 billion pounds of Roundup are used in more than 160 countries each year.
Despite its widespread use, the popular weedkiller has been called into question as a possible health hazard. Thousands of consumers have filed Roundup cancer claims alleging they developed non-Hodgkin's lymphoma, b-cell lymphoma, leukemia or other forms of cancer after using the weed killer.
The first non-Hodgkin's lymphoma lawsuit came before a jury in 2018, resulting in a landmark $289 million verdict against Monsanto. The award has been reduced twice, but the plaintiff, Dewayne Johnson, and his family should receive $20 million.
In 2018, just as these lawsuits were beginning to come before juries, Bayer finalized their acquisition of Monsanto. According to public statements, Bayer faces 125,000 Roundup lawsuits. Plaintiffs claim the herbicide caused users to develop blood cancer.
Types of Blood Cancer Claimed in Roundup Lawsuits
Anaplastic Large T-Cell Lymphoma
Follicular B-Cell Lymphoma
Mediastinal B-Cell Lymphoma
Large B-Cell Non-Hodgkin's Lymphoma (NHL)
Mantle Cell Lymphoma
High-Grade Mature B-Cell Lymphoma
Hairy Cell Leukemia
Acute T-Cell Lymphoblastic Lymphoma
Thymic Lymphoma
Chronic Lymphocytic Leukemia
Roundup Wrongful Death Lawsuits
In some cases, individuals impacted by repeated Roundup exposure may have already passed away before they or their family members understood the link between Roundup and cancer. Family members of those who passed away from Roundup-associated cancer may be able to file a wrongful death lawsuit.
Roundup Class Actions & Multidistrict Litigation (MDL 2741)
A Roundup class action lawsuit was filed in Los Angeles Superior Court against Monsanto, claiming its advertising falsely stated that Roundup products were safe to use. The class action lawsuit also claims the company deliberately falsified documents and concealed information indicating that glyphosate is dangerous to humans and environmental health.
Roundup Multidistrict Litigation (MDL 2741)
Due to the growing number of Roundup cancer lawsuits, federal multidistrict litigation has been consolidated under MDL No. 2741 under U.S. District Judge Vince Chhabria in the Northern District of California. There are more than 3,800 lawsuits pending under the multidistrict litigation as of August 2020.
Note: Bayer's public references to 125,000 Roundup lawsuits indicate the vast majority have not been officially filed in the MDL.
In April 2019, Judge Chhabria ordered Monsanto to enter into mediation with plaintiff attorneys. In June 2020, Bayer announced a $10.9 billion settlement. Roughly $8.8 to $9.6 billion would be used for current claims. $1.25 billion would be reserved for future litigation.
As of October 2020, this settlement is still pending.
Get Help now!
If you or a loved one have been injured, you may be eligible for a lawsuit. A lawsuit can help recover damages for medical costs, pain and suffering, and more.
Contact us today for a free, no-obligation legal review.