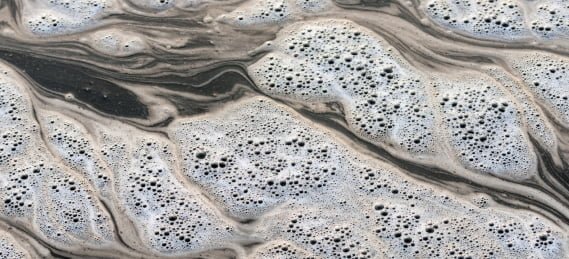 PFAS Contamination
Per- and polyfluoroalkyl substances (PFAS) are a class of compounds that are the current subject of some scrutiny due to having "been linked to many harmful health effects, including cancer," per a systemic evidence review conducted by Pelch et al. This study also ranks PFAS as a "serious global health threat." While several hundred chemicals are contained in this class, there are eight in particular which have been associated with a myriad of health risks. These molecules are made up of a chain link of carbon and fluorine atoms. Due to the strength of the chemical bonds, the molecule does not degrade readily in the environment. Owing to that fact, scientists are unable to estimate an environmental half-life for PFAS. Of note, these chemicals are no longer manufactured in the United States but that hasn't put an end to their negative impacts on human health
and the environment.
Findings
PFAS chemicals are used in multiple industries, such as in fire-fighting applications, cosmetics, greases, lubricants, paints, polishes, and adhesives. PFAS persists in the environment and has been identified in bodies of water and in a variety of land and water animals. Humans can be exposed to PFAS either by working with it, using a product that contains it, or via contaminated water sources.
Aqueous film-forming foams (AFFFs) are a mixture of chemicals that are used to extinguish fires, especially when highly flammable liquids are involved. PFAS are cited as the main chemicals in these substances. These so-called "forever chemicals" are fluorinated and hydrogenated surfactants that are stable in high temperatures, non-flammable, and non-biodegradable. Due to these properties, these types of chemicals were widely used in many industrial and commercial applications.
Given the widespread use of PFAS substances in AFFFs, the potential exposure to this carcinogen by firefighters has received much research scrutiny. A publication in the Journal of Occupational and Environmental Medicine determined that more than 80% of fire departments surveyed throughout the state of Florida use AFFFs and are largely unaware of their carcinogenic effects.
Litigation Status
The MDL is made up of thousands of cases brought by individual plaintiffs, state governments, and local municipalities. Firefighters are one such group of plaintiffs. Our first responders in red come into contact with PFAS substances regularly through some of the most important products on the job: flame-retardant firefighting gear treated with PFAS and firefighting foam. These suits allege that firefighters also have significant levels of PFAS in their bloodstream. In turn, defendants deny wrongdoing and maintain that their products are safe and meet or exceeded the applicable industry standards, and enable firefighters to do their jobs safely and effectively.
In September 2022, the U.S. District Court for the District of South Carolina denied the defendant government contractors' motion for summary judgment. In their decision, the court held that as manufacturers of AFFFs and the PFAS involved in theprocess, the defendants "had significantly greater knowledge than the government about the properties and risks associated with their products and knowingly withheld highly material information from the government."
The main question arising in these suits, therefore, is whether or not exposure to PFAS by way of their equipment resulted in the elevated PFAS in their blood and whether those levels in turn played a causal role in the ailments firefighters are facing. The MDL judge stated that a bellwether trial for its chosen test case is anticipated to be set for April of this year with preliminary discovery to commence in March.
Expert Witness Opportunities
A key factor in the PFAS litigation would be toxicologists. An expert in toxicology would be able to opine on the causal link and sequelae of PFAS exposure in humans, as well as the risks and complications of which they are aware from the literature and from personal experience. The precise connection between PFAS and the various harms alleged in these actions isn't clear. As such, a collection of other experts could also prove vital. Such specialties could include city, product, and industrial engineering; public health; immunology; and endocrinology. Opportunities for expert witnesses are endless here as their testimony will be crucial in determining exactly how PFAS chemicals find their way into the bodies of those alleging harm, what risks were known at what time, and what industry standards exist in ensuring known risks are alleviated or altogether avoided.
Get Help now!
If you or a loved one have been injured, you may be eligible for a lawsuit. A lawsuit can help recover damages for medical costs, pain and suffering, and more.
Contact us today for a free, no-obligation legal review.